Program
AS-File Table 1.40 -
Create text-only tables of files

.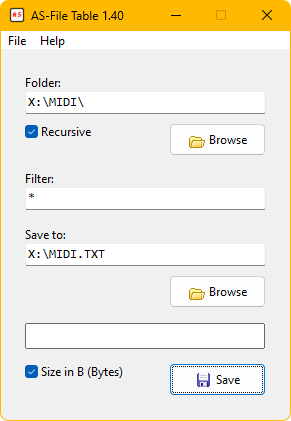 Screenshot of AS-File Table 1.40
A program to search through a folder and get a text-only table of its files and its size.
Benefits
Aware of the length of all fields, which means that the columns do not become larger than necessary.
Can print the file sizes either with B (Bytes) or with dynamic expression (B, kB, MB, GB, TB, PB, EB).
> Download AS-File Table 1.40 (Zip, 1.13 MB)
Revision Date: 2023-09-20.
License: Freeware.
Unicode Support: Yes.
DPI Aware: Per-Monitor (V2).
Program Type: Fully portable, X64.
Operating System(s): Windows 7, 8, 8.1, 10 and 11. (Also the Server versions.)
Language(s): English and Swedish.
This is the program's official website - download the program here to get the latest version/revision. The program is free.